Recent Advances in Crystallization and Self-assembly of Polypeptoid Polymers
Polymer Crystallization, 2019, e10065.
DOI: 10.1002/pcr2.10065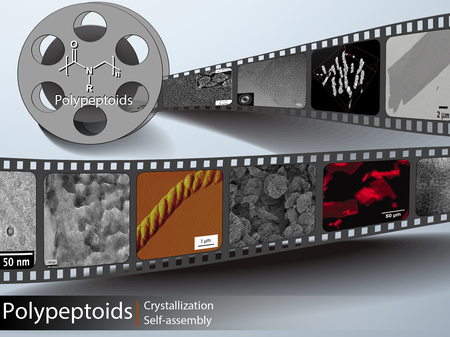 Poly(N-substituted glycine)s, or polypeptoids, have attracted great interest from researchers due to their structural similarity to polypeptides. By taking advantage of relative ease of synthesis and good solubility in common solvents, polypeptoid polymers provide a versatile platform to generate peptide mimics with well-defined chemical structures and architectures. As a class of peptidomimetic polymers, a deep understanding on the impact of side-chain structures, main-chain topologies and backbone conformations with respect to the aggregation behaviors is the prerequisite for developing peptidomimetic polymers toward macromolecular and supramolecular engineering. This mini-review highlights recent developments in the crystallization and self-assembly of homopolymers, block copolymers and macrocycles of polypeptoids.